Enfo top ranked among Sweden's best employers!
At Enfo we are proud to be ranked as Sweden's 7th best employer by Universum.
Here we meet Maria Karlsson, one of our 800 digital experts, who describes what it's like to work at Enfo.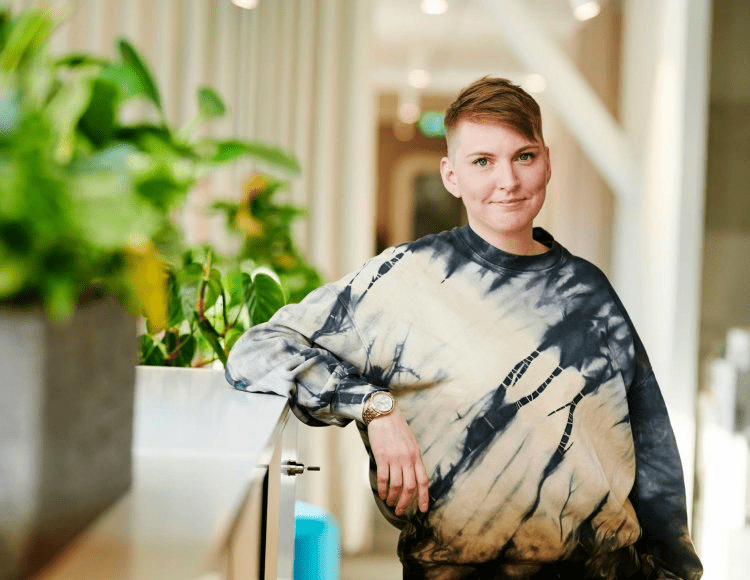 Enfo develops and operates digital solutions in the cloud for large and medium-sized enterprises. Our culture is characterized by a familiar atmosphere, collaboration and development opportunities.
Enfo is an IT service company employing more than 800 digital experts in ten offices across Sweden and Finland. Maria Karlsson joined the company as a junior software developer in April 2019, and since autumn 2020 she has held a mixed role as team leader and developer.
"Enfo works with digital security, data and analytics, applications, integration and business applications. I help customers to process data so that they can become more intelligent and make better decisions. Our aim is to work towards a more sustainable and intelligent tomorrow," she says, continuing:
"I am amazed by all the talented people I get to meet every day. It's great fun to work with them and it strengthens me as well."
How do you view your role as a team leader?
"I was initially a little reluctant to step into the role, but leading is no problem when you're surrounded by talented, self-motivated people. I have worked as a project manager before and felt that I wanted to develop a technical focus and become a skilled developer. At Enfo, we work as a team in a way that I have not experienced before, and this is helping me to develop more quickly."
What is unique about your corporate culture?
"Everyone can be themselves, you have considerable development opportunities and you feel that you are seen. You can talk openly with managers and colleagues. We have a supportive culture where we help each other."
When you boast about your employer, what do you say?
"When you do a good job, people really see you. If you want to do something new or learn more, you are always given these opportunities. And I always boast that this is the first time in my life that all my bosses are women. There's something special about this. The conversations are different, and I feel completely confident talking about anything with my boss over a cup of coffee."
What efforts do you make in terms of health and job satisfaction?
"We have a really pleasant office in Stockholm where I work, and it's great to spend time there, meeting colleagues and bouncing ideas off each other. Others find that working from home works just as well, and they're welcome to do that. There are also table-tennis tables and an outdoor gym here. Before the coronavirus pandemic, various exercise sessions were run at lunchtime; now physical training is conducted online.. This helps to create a community. As well as being colleagues, we do other things together. We also have clubs for board games and video game tournaments."
Tell us about a highlight at work!
"Friday breakfasts! They're about to start up again. Most people come into the office on these occasions and join in the buffet. It's a cozy start to the day, and you also get to meet colleagues from different departments. I enjoy being at Enfo precisely because it has such a pleasant, familiar atmosphere. It doesn't matter who you are – you become part of the team straight away."
Brief details about Maria
Name: Maria Karlsson
Title: Senior consultant
Education (school and year of graduation): Music course at Boland High School in Uppsala and Västervik High School. Independent courses in areas such as data visualization and data modeling.
Dream project: "To work for a large computer gaming company. I'm a bit nerdy and that would enable me to combine work and pleasure."
The article was published on Universum's ranking of Sweden's Best Employers the 25th of November 2021.